Brunch at the Duluth Grill Cookbook
Brunch at The Grill
Not just a cookbook, a love letter – this book traces the story of the Duluth Grill through its food and cocktails. It gives voice to the local farmers, craftspeople, and vendors whose labors inspire its menu, while honoring the cooks, servers, baristas, and more who make the Grill a beloved Northern Minnesota institution. Like a good brunch, this book is an opportunity to gather, to celebrate, and to connect. We thank you for supporting us and our vision, wherever it may lead!
---
Written by Jesse Sawyer
Photography by Rolf Hagberg
Over 150 Recipes Include
Bi Bim Bap

Drunken Noodles

Biscuits and Gravy

Korean Brussel Sprouts

Chicken and Waffles

Brunch Cocktails

Lattes

Bloody Marys

Pancakes

Benedicts

and all of our house made sauces
Duluth Grill Cookbook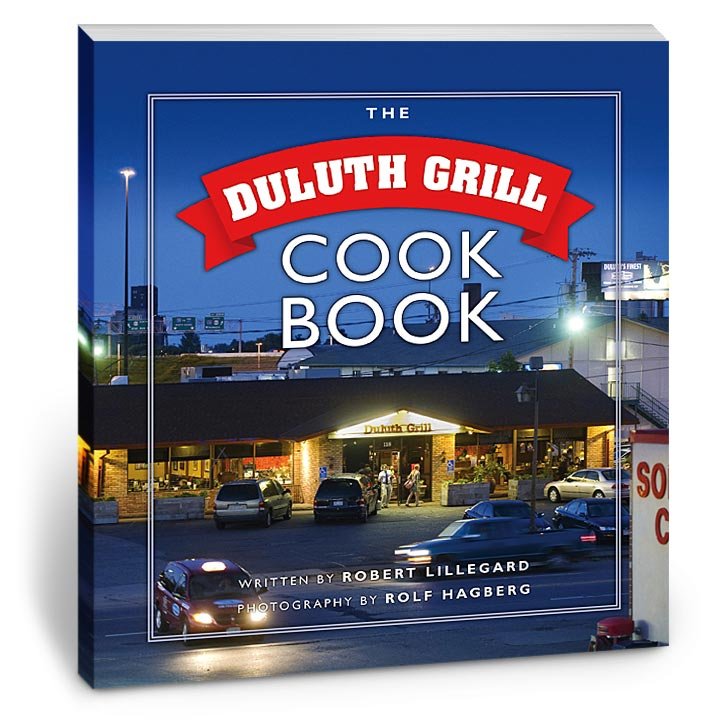 We've got fabulous photography by a master photographer, writing by a New York Times published food writer, and a beautiful design by a veteran graphic designer (all of them local!). This book is a glossy, full-color tour de force of our best dishes, complete with recipe tips from Tom Hanson himself and fun facts about the history and philosophy of the restaurant.
We've got meal plans if you're vegan, vegetarian, or gluten-free. We've got a special section for the Duluth Grill's homemade condiments. We've got profiles of local farmers. And it's all wrapped up in a beautiful package—the perfect gift for yourself or a fellow food lover. At just $29.95, it's a locally made bargain.
What recipes will you learn to make?
Condiments and Sauces
Strawberry Jam
Peanut Butter
Mango Vinaigrette
Raspberry Vinaigrette
Balsamic Vinaigrette
Rosemary Vinaigrette
French Dressing
Ranch Dressing
Blue Cheese Dressing
1000 Island Dressing
Chipotle Pecans
Caramel Sauce
Chocolate Sauce
Huny-Rika Sauce AKA Z-Sauce
Pesto sauce
Salsa
Guacamole
Green Salsa
Mustard
Ketchup
BBQ Sauce
Spicy Thai Peanut Sauce
Caramelized Onions
Roasted Red Pepper Vinaigrette
Cranberry Mayonnaise
Roasted Garlic Cloves
Chipotle Pepper Sauce
Lemon Aioli
Tarragon Butter
Tartar Sauce
Cucumber – Dill Sauce
Big Hearty Entrees
Wild Rice Patty
Tempeh Burrito Mix
Veggie Lasagna
Tofu and Walnut Marinara
Baked Whitefish
Mushroom Pie
Lasagna
Bison Pot Roast
Chicken Marsala
Ratatouille
Sloppy Joe Sauce and Filling
Meatloaf – Gluten Free
Pasties
Mushroom Gravy
Poached Salmon
Ginger Glaze
Mac and Cheese
Breakfast
Breakfast Sausage
Red Flannel Hash
Pancake Batter
Caramel Apple French Toast
Corned Beef Hash
Grizzly Bars
Pumpkin Spice Cake
Roasted Pepper and Pesto Omelet
Mediterranean Omelet
Soups and Stews
Fire Roasted Tomato Stew
Lamb Shanks
Chicken Tortilla Soup
Smoky Split Pea Soup
Wild Rice Chicken or Turkey Soup
Black Bean Soup
Tomato Basil Soup
Lumberjack Bison Stew
Hobo Soup
Roasted Red Pepper Soup
Starters and Sides
Salmon Cakes/Burgers
Scotch Eggs
Curried Polenta Lettuce Wraps
Buffalo Tofu Strips
Moroccan Hummus
Falafel
Coleslaw
Squash with Apples and Walnut
Garlic Parsnips
Sesame Green Beans
Creamy Corn Polenta
Wild Rice Orzo Pasta Salad
Wild Rice Side Dish
Sweet potato side
Brussel Sprouts
Carrots – Fresh with Maple Glaze
Stuffing with Pork Sausage
Cranberry Sauce
Dessert
Lefse
Brownies
Apple Crisp
Cheesecake
Pie Crusts
Banana Cream Pie Filling
Coconut Cream Pie Filling
Vanilla Cream Pie Filling
Chocolate Cream Pie Filling
Blueberry Pie Filling
Apple Pie Filling
Lemon Pie Filling
Strawberry Pie Filling
Chocolate Cake & Frosting
Chocolate Chip Cookies
Molasses Cookies
Peanut Butter Cookies
Chocolate Truffles
Banana Layer Cake
…and more!