Duluth Grill Cookbook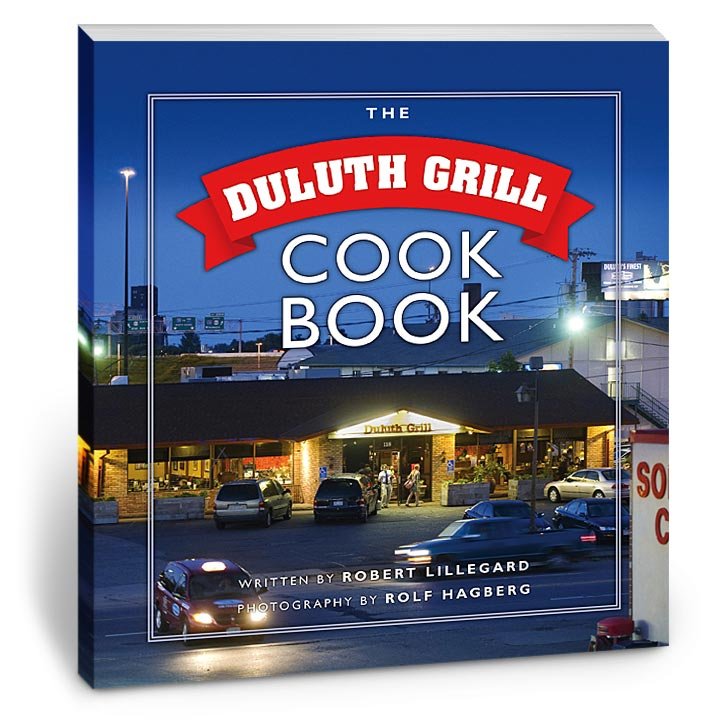 We've got fabulous photography by a master photographer, writing by a New York Times published food writer, and a beautiful design by a veteran graphic designer (all of them local!). This book is a glossy, full-color tour de force of our best dishes, complete with recipe tips from Tom Hanson himself and fun facts about the history and philosophy of the restaurant.
We've got meal plans if you're vegan, vegetarian, or gluten-free. We've got a special section for the Duluth Grill's homemade condiments. We've got profiles of local farmers. And it's all wrapped up in a beautiful package—the perfect gift for yourself or a fellow food lover. At just $29.95, it's a locally made bargain.
What recipes will you learn to make?
Condiments and Sauces
Strawberry Jam
Peanut Butter
Mango Vinaigrette
Raspberry Vinaigrette
Balsamic Vinaigrette
Rosemary Vinaigrette
French Dressing
Ranch Dressing
Blue Cheese Dressing
1000 Island Dressing
Chipotle Pecans
Caramel Sauce
Chocolate Sauce
Huny-Rika Sauce AKA Z-Sauce
Pesto sauce
Salsa
Guacamole
Green Salsa
Mustard
Ketchup
BBQ Sauce
Spicy Thai Peanut Sauce
Caramelized Onions
Roasted Red Pepper Vinaigrette
Cranberry Mayonnaise
Roasted Garlic Cloves
Chipotle Pepper Sauce
Lemon Aioli
Tarragon Butter
Tartar Sauce
Cucumber – Dill Sauce
Big Hearty Entrees
Wild Rice Patty
Tempeh Burrito Mix
Veggie Lasagna
Tofu and Walnut Marinara
Baked Whitefish
Mushroom Pie
Lasagna
Bison Pot Roast
Chicken Marsala
Ratatouille
Sloppy Joe Sauce and Filling
Meatloaf – Gluten Free
Pasties
Mushroom Gravy
Poached Salmon
Ginger Glaze
Mac and Cheese
Breakfast
Breakfast Sausage
Red Flannel Hash
Pancake Batter
Caramel Apple French Toast
Corned Beef Hash
Grizzly Bars
Pumpkin Spice Cake
Roasted Pepper and Pesto Omelet
Mediterranean Omelet
Soups and Stews
Fire Roasted Tomato Stew
Lamb Shanks
Chicken Tortilla Soup
Smoky Split Pea Soup
Wild Rice Chicken or Turkey Soup
Black Bean Soup
Tomato Basil Soup
Lumberjack Bison Stew
Hobo Soup
Roasted Red Pepper Soup
Starters and Sides
Salmon Cakes/Burgers
Scotch Eggs
Curried Polenta Lettuce Wraps
Buffalo Tofu Strips
Moroccan Hummus
Falafel
Coleslaw
Squash with Apples and Walnut
Garlic Parsnips
Sesame Green Beans
Creamy Corn Polenta
Wild Rice Orzo Pasta Salad
Wild Rice Side Dish
Sweet potato side
Brussel Sprouts
Carrots – Fresh with Maple Glaze
Stuffing with Pork Sausage
Cranberry Sauce
Dessert
Lefse
Brownies
Apple Crisp
Cheesecake
Pie Crusts
Banana Cream Pie Filling
Coconut Cream Pie Filling
Vanilla Cream Pie Filling
Chocolate Cream Pie Filling
Blueberry Pie Filling
Apple Pie Filling
Lemon Pie Filling
Strawberry Pie Filling
Chocolate Cake & Frosting
Chocolate Chip Cookies
Molasses Cookies
Peanut Butter Cookies
Chocolate Truffles
Banana Layer Cake
…and more!
Duluth Grill Cookbook II
All new recipes. All new photographs. Same goofy jokes.
The Duluth Grill is back for its second cookbook. It's big. It's bad. And after gaining fans from around the country, it's better than ever.
Do you want to know why it's taken so long to get that fish farm going? That's in here. Wondering about that time the catering van almost got set on fire? That's in here too. From digging up the back parking lot for a new garden to (not) getting sued by Heinz to having a Real Housewife of Miami endorse their first book, the last three years have been a whirlwind.
But the food is really the star here. You'll find raw vegan marinara, but also a bacon ice cream sundae; gluten free options, but also homemade flaky biscuits. From the cilantro lime vinaigrette to the North Shore paella, from the beet lemonade to the bison stuffed peppers, this is Minnesotan food like you've never seen at a potluck. Whether you're making the carrot cake (good), the sriracha aioli (good), or the bacon-blue cheese coleslaw (real good), you'll be glad you picked this up.
So treat yourself. Support a family-owned business. And most of all, enjoy the read. Because when a New York Times published food writer, an award winning photographer and designer, and a nationally famous restaurant get together, you're not going to be disappointed.
---
Foreword by James Beard winner Bea Ojakangas
3-Day Meal Plans for Fast And Easy, Vegans, Vegetarians, and Gluten-Free
Profiles of local farmers
100 Recipes Include
Condiments such as Curry Sauce, Cranberry Habanero Ketchup, Cashew Sour Cream, and 22 more
Breakfast All Day from Blueberry Muffins to Breakfast Sausage
Beverages like Cold Press Coffee, Beet Lemonade, and Iced Mocha-Nut
Creative Soups like Sanguine Maria, Kale and White Bean, and Broccoli Cheese
Big Hearty Entrees like Swedish Meatballs, Duck Burgers, and Barbecue Eggplant
Veggie Side Dishes like Kimchi, Sauerkraut, and Carrot-Daikon Slaw
Delectable Desserts: Velvet Pumpkin Cake, Cinnamon Chai Sorbet, Cannoli, and many more